Hope abounds in the Ford home.
It's not that there's a sense of optimism about the future, though there certainly is that. But rather, a two-year-old named Hope is buzzing about the Ford family home, as baby "Johnny" sleeps, and eight-year-old Jeremiah plays in the living room.
In her diaper, Hope puts together and takes apart Lego pieces. Ponytail atop her head, like water shooting from a fountain, she pushes a baby buggy across the room, then giggles as she announces that she "made a poop."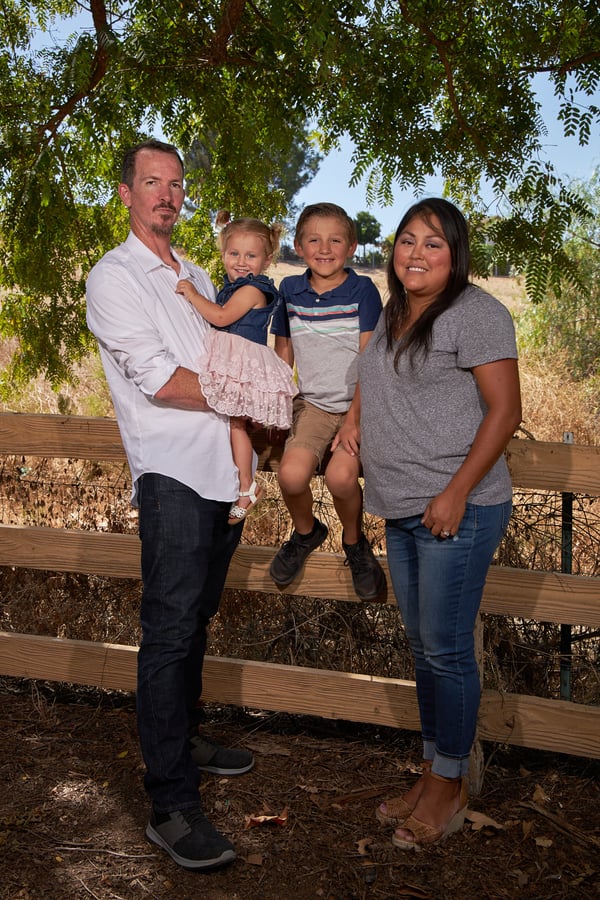 Seeing her lighthearted toddler happiness, one would never guess that her life began with trauma. Hope spent the first three weeks of her life in the Neonatal Intensive Care Unit after being born with drugs in her system.
Hope was the second child that Angels Foster Family Network placed with Angelita and Jeremy Ford, a foster family in East County. Their first placement was reunified with her biological family, which is the goal in foster care. Sometimes, when reunification is not possible, children are adopted by Angels families, which was the case with Hope.
Three-month-old Johnny is the family's third placement. Jeremiah is the couple's biological son.
"I like it when they laugh when I make funny faces," Jeremiah says about his experience as a foster brother.
The couple says they started out wanting to adopt a child but realized they could do a great deal of good by fostering young children. "If everyone knew how big the need for foster parents was, there wouldn't be any foster children," Jeremy says. He explained that once you hear the alarming statistics about the nearly 1,000 infants and toddlers in the foster care system in San Diego County, it's hard to say no to fostering.
Angelita had worked at Court Appointed Special Advocates (CASA) and Voices for Children, so she was more familiar with these situations. She and Jeremy were happy to set aside their hopes for adoption and foster instead. They were pleasantly surprised when they had the opportunity to provide Hope with a "forever home."
She's a social butterfly," says Jeremiah, with a laugh, as Hope proudly shows pictures of herself from her first day of preschool. "We're introverts so she's bringing us out of our shells." Bouncing baby Johnny in his arms, Jeremy adds that Hope is extremely verbal and likes to take charge. "She'll be a CEO one day," he says proudly.
As for Baby Johnny, the family wants what's best for him. "We always ask ourselves if we're doing what's right, and we're doing what's best for the children," says Angelita. "I want a happy ending, and that may mean we get our hearts broken," says Angelita. That is exactly what Angels has prepared them for, they say.
Angels Foster Family Network advises foster families that this work is not for the faint of heart, but rather families who can put the needs of a young child before their own. Angels foster parents often say that they are willing to have their hearts broken so that young children don't have to have theirs broken.
Angelita and Jeremy say they are impressed by the level of training and support they receive from Angels. Like all families, the Fords went through an approval process that left them well prepared for the joys and challenges of fostering.
They have round-the-clock access to a clinical case manager. "We couldn't do this without Angels," says Angelita. "Not only do they guide us through the maze of the child welfare system, but they provide our family with invaluable emotional support because they truly understand all the challenges children and their foster families go through."
---
Interested in fostering, too?