Angels foster parents are as diverse as our community as a whole.
They come from a broad spectrum of racial and ethnic backgrounds. Some are people of deep faith; others are casually observant or have no religious affiliation. They are gay, straight, single, retired, and military.
The two things Angels foster families all have in common are an unwavering commitment to the health and safety of young children in foster care. And people tell them on a regular basis that they could never foster because they'd get too attached.
Ashley and John Miles know where people are coming from when they say this. It is difficult to fall in love with an infant or toddler, then say goodbye once the child is reunified with his or her biological family. When Ashley read the book "The Middle Mom" by Christie Erwin*, a quote really brought it all into perspective for her, so she shared it with John. "In these situations, someone is going to get their heart broken. It's either you or the children," recalls John. "I'm a grown man, and I can shoulder this for them so they can experience love and attachment."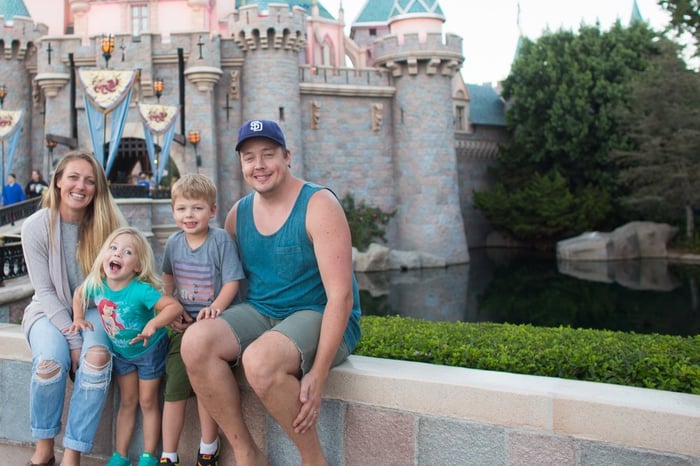 Ashley agrees wholeheartedly, saying that it's painful to say goodbye to children who have become part of their family. "There's a healing process for us, but we are also excited when biological parents are able to do the work to get their children back," she says.
Ashley and John had originally discussed adoption as a way to grow their family, which includes five-year-old Grace and six-year-old Cole. But when Ashley worked as a nurse at the Polinsky Children's Center, she saw firsthand the urgent need for foster families in San Diego. "It really opened my eyes because you saw the effect it had on children who didn't have a chance to attach with a consistent, compassionate foster parent in a home setting," she says. The couple also shares a strong Christian faith and say they "felt called by God to help those suffering in our community."
After attending an information session at Angels, Ashley and John decided to foster, and began the certification process. They say they received great education and training, and that they enjoy ongoing support. "I don't know how anyone does it without Angels," says Ashley.
Soon they got a call to foster baby "Joe," a four-month-old who stayed with them for nearly four months before he was reunified with his biological mother. Ashley says her greatest fear in fostering was that the biological parents would be hostile to her family, but she was pleasantly surprised. "The mom told me it gave her comfort to see that my entire family was caring for Joe as one of our own while she took the steps she needed," Ashley recalls. She says it was important to them that they properly navigate the relationship and establish trust with the biological parents. "We want to make sure they know that we are not trying to take their children, and that we are rooting for them," she adds.
When Ashley and John first started thinking about fostering, they wondered how it would affect their children. They were thrilled to discover that Grace and Cole bounced back quicker than they did. "The day Joe left, Grace was like, 'Okay, when do we get another baby?'" says John with a laugh.
Part of their children's resilience stems from the fact that the couple was direct and honest in their communication. Ashley explains that they simply told the children that Joe's parents couldn't take care of him at the moment, and the baby would be living with them until he could return to his family. Ashley and John say they tell their children that they are fostering to show love. "We tell them that a family needs help, and it is our job to love them and their babies while they get the help they need," says John.
Currently living with the Miles family is a little one, "Lily," who joined them at just a few days old after it became apparent that her biological mother had been using drugs. Fortunately, Lily showed absolutely no signs of drug withdrawal and has had a sunny disposition from the onset, say Ashley and John. Today the adorable girl sits on Ashley's lap with a shock of black hair and deep black eyes so wide she looks like a Disney character.
Lily is more than just cute, though. She is clearly well-loved by her foster family. Baby Lily smiles and maintains eye contact with strangers, and kicks her little legs with excitement when Grace approaches. As hard as it will be to say goodbye to Lily, Ashley says it's been a greater joy to have had her in the family.
The couple's advice for anyone considering fostering: "Go all in." They understand that sometimes adoption is a necessary outcome of fostering and consider it a great privilege, but also say the healthiest thing for them has been to love the babies, develop relationships with the biological families, and endure the roller coaster of fostering.
---
Interested in fostering, too?
---
*The link to the book above will bring you to an AmazonSmile page. If you haven't already, be sure to choose Angels Foster Family Network or click here to set Angels as your charity of choice. Then, every time you shop at Amazon, go to smile.Amazon.com instead. It costs you nothing extra and your shopping experience is exactly the same – Amazon will just donate a little something on every eligible product to us here at Angels. It's just another little way that you can help us give the gift of family to children in need.