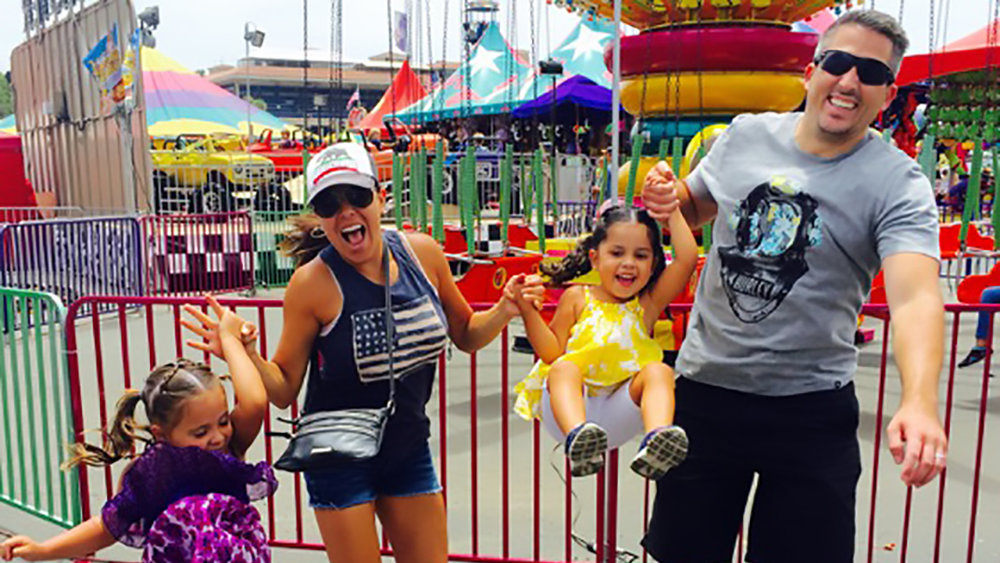 When Valerie and Danny wanted to grow their family, they assumed it would be through adoption. They had two healthy toddler girls, Tinley and Avery, and wanted to care for another child who needed a loving home. "Our mindset was on adoption, but friends told us about Angels Foster Family Network and we attended the orientation," explains Danny. "We started assessing why we wanted to adopt, and fostering made sense."
Their first placement, a toddler they nicknamed "Ant Man," (complete with a father-son battle cry) was recently reunified with his biological father, a bittersweet moment for this family. "I'm sad, but I think about all the good that came from having him," says Valerie as her eyes fill with tears. "He was friendly and warm, and so cute." With a laugh, Danny leans in and adds in a mock-conspiratorial tone, "He was a lot better behaved than our own kids."
The couple laughs as they share memories of their nine months with "Ant Man." Wrestling with the girls. Hours of jumping on the couch. And the way Tinley and Avery greeted their foster brother when they picked him up from respite care after a family vacation. "We were chopped liver, the girls really missed him," Danny says. Valerie smiles, then dabs her eyes with a tissue. "The best thing was helping another little person and instilling love and affection and knowing it's part of the core of who he is now," she says.
Fostering had its challenges too. Aside from the sadness of saying goodbye, Valerie and Danny say it wasn't always easy communicating with the biological mother. "Dad was awesome, a super-cool guy," says Danny. The child's mother was often aloof to the couple during her visits, and sometimes seemed annoyed with them, though. The relationship warmed as the months went by. They never quite formed the collegial bond that Angels foster families often report having with biological families, but they made peace with that because the most important relationship – the one with "Ant Man" – was deeply rewarding.
Though the couple had hoped for more of a connection with their foster child's biological mother, they were pleasantly surprised at the close relationship they had with the Angels staff. After the extensive training and certification process, they were assigned to a clinical case manager who offered round-the-clock support. "I called Meaghan in the evening and she got back to us in ten minutes," Valerie says. Danny adds, with a keen comedic delivery, "And she knew just how to listen and let (Valerie) vent. I was actually taking notes, thinking I'm going to do that next time she's got an issue, instead of just jumping in with ideas on how to fix things."
From the moment they attended the initial information session, they knew Angels would prepare them for the realities of fostering. "We heard stories from other foster parents and it felt very authentic," Valerie says. "They didn't sugarcoat anything." During the training and certification process, Angels also helped the couple recognize developmental issues and signs of trauma. What they may have otherwise thought was their foster child's extremely outgoing personality was actually an attachment disorder. Most importantly, Angels educators talked about positive approaches to addressing these issues and establishing healthy relationships. "I appreciated the training because I like learning about something in a class, reading it in a book, and then seeing it happen," says Danny. "It's the logical validation I need. You know you're prepared and can handle what comes up."
---
Interested in fostering, too? Click here for more information!