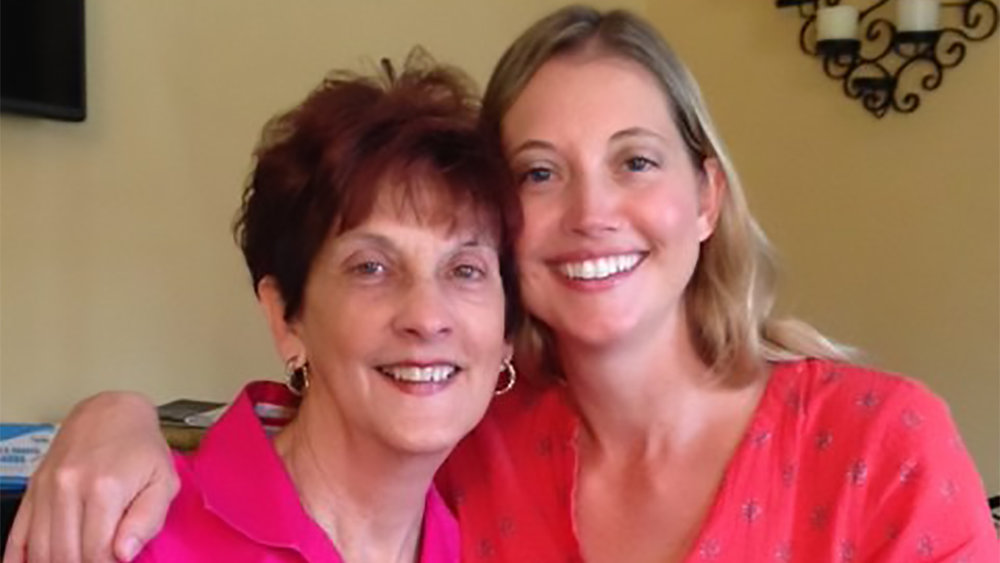 Call it fate. Call it divine intervention. Call it what you will, but this family feels certain it was meant to be together. The mother-daughter fostering team of Keri and Mary Lou has absolutely no doubt that the spritely blonde toddler in their care is the bundle of joy they've long been waiting for. Looking at their Christmas morning photograph — where they're in matching candy cane pajamas — it's hard to disagree.
"There's just too much coincidence," says Mary Lou, a retired judicial administrator in family court. Keri nods in agreement as the 16-month-old they call "Sweet Pea" toddles through the living room with a permanent smile as she removes books from the shelves. "Hi!" she chirps often and enthusiastically as she moves around the North County home filled with colorful toys and pictures.
Keri is a pediatric physical therapist, which gives her a unique set of skills for Sweet Pea, who has been with them since she was just days old. When Keri got the call from Angels Foster Family Network, she was told that Sweet Pea might be blind. She was hesitant at first because she thought that caring for a special-needs baby might prove too physically taxing on her mother, who would be home with the baby while she was at work. That changed in an instant. "As soon as we saw her we fell in love," says Keri. "She looked so sweet and innocent and I just felt like we've got this." Plus, Keri's knowledge of the health care system and Mary Lou's background put them in a strong position to advocate for the baby.
Upon their arrival home, Keri and Mary Lou started noticing things miraculously falling into place. The baby is, in fact, blind in one eye, but has vision in the other. There are a host of renown specialists near their home, who have all provided excellent care for Sweet Pea. "There aren't many pediatric oculists, but there's one right near our house," Mary Lou says with a smile. They have also been fortunate to find eye doctors, neurologists, and geneticists to provide care.
The fact that Sweet Pea was born in San Diego was a bit of a coincidence as well. The biological mother lives out of state and was passing through when she went into labor. At the Angels orientation, Keri and Mary Lou were told that the vast majority of infants and toddlers in foster care are reunified with their biological families. But they face an unusual situation, and Keri may be able to adopt Sweet Pea.
During their training, Keri and Mary Lou also learned about how important it is to form positive relationships with biological parents and family during visitation. So far that hasn't happened, though, as the biological mother has not yet called to schedule a visit. It appears as though she intends to forfeit her parental rights, and if that remains the case Keri will petition to adopt Sweet Pea. This would be a dream come true for Keri, who has wanted to be a mother for many years. She has tried a variety of paths toward motherhood, experiencing some frustration along the way. Now, it all makes sense to Keri as she looks adoringly at the toddler. "There's a reason for everything and she is it," she says.
---
Interested in fostering, too? Click here for more information!