Like many people, Terra Jones thought she could never foster an infant or toddler because it would be too difficult to say goodbye when children reunified with their biological families. A friend encouraged Terra and her husband Jeff to attend an information session at Angels Foster Family Network anyway, and from there, the path became very clear. "We saw incredible need and knew this was something we had to do," she says in the airy family room of the North County home she and Jeff share with their two teenage daughters, Sara and Ashley.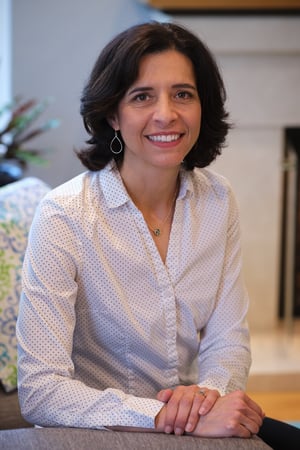 After five years of fostering, the Jones family had the opportunity to adopt four-year-old Reyna, their fourth placement though Angels Foster Family Network. With three children at home, the family decided to contribute to Angels in a different way – through volunteer service, including Terra serving on its Board of Directors. "I'm passionate about what Angels does to support families who foster young children," says Terra.
She is one of three former foster parents currently serving on the board. There she works alongside staff members, some of whom are also former foster parents. Their voices of experience are part of what makes the agency so special. "When we hear something that sounds like a great idea in theory, we're able to offer reasons why it may not be realistic," she says. "My experience as a former foster parent gives me a unique perspective and helps spark ideas about what could work instead. There's incredible support for foster families." For example, Terra says that through her experience fostering, she understands how each child is like a puzzle you have to try to figure out because so little information is available to foster parents. Foster parents often don't have access to a child's medical history, so she can understand the frustration and powerlessness foster families sometimes feel. At the same time, she can share solutions that worked for her family.
Terra says that as rewarding as she found fostering, she is equally gratified by working with the board. "We have a phenomenal board with people with expertise in finance, fundraising, law, and fostering," says Terra. "What we all share in common is a deep desire to have a global impact on the direction of Angels, which supports foster parents who are giving so much of themselves to transform the lives of young children."
While fostering has had its challenges, it has been an overwhelmingly positive experience for her whole family. Now, Terra is able to support other parents through her board service at Angels. While her family members have had to face the heartbreak of saying goodbye to three of their placements, they have found a community that they'll be a part of forever.
---
Interested in fostering, too?