Rick Sliter enjoys the challenge of solving difficult problems. Professionally, Rick has taken roles that have required complex actions – turning around a struggling business unit, integrating two very different companies post-acquisition, and launching a new product in a crowded marketplace. In his free time, he finds joy in completing the most challenging Sudoku puzzle and in competing in poker tournaments. So, when a friend told him about how Angels Foster Family Network changes the lives of children by providing stable, loving care in a family setting, he was drawn to the mission. When he discovered just how broken the foster care system is, he knew he had to be part of the solution by serving on the Board of Directors.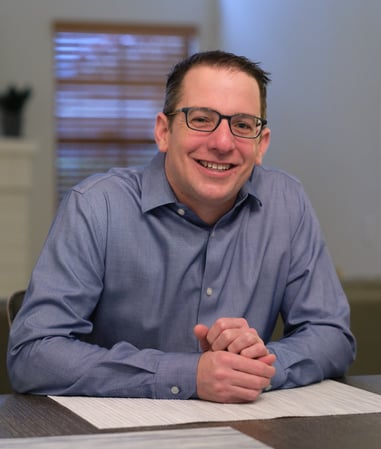 The average child in the foster care system stays in three different homes, sometimes separated from siblings, and often sharing a home with up to six other placements. Angels does things differently, asking foster parents to commit to one infant or toddler (or sibling set if they are able) for the duration of his or her stay in foster care. Sliter supports this approach saying it is imperative that young children learn to bond with trusted adults. In doing so, children are generally happier, and more likely to succeed in school and lead productive lives.
The challenge is that providing high-quality, individualized care means Angels needs to recruit and train more foster parents than they would need for group homes. There is a very real shortage of foster parents in San Diego. Most people don't realize that Angels has to turn down more than half of the requests it receives because it doesn't have enough foster parents to meet the high demand. "My focal point is how can we increase the number of interested, qualified foster parents because it is very clear how it transforms the lives of children and benefits the community," says Rick.
As a business person, Rick brings decades of marketing expertise and focuses his board service on increasing awareness about fostering through social media and digital marketing. "What I do is small," he says. "The real heroes are the families who love and support children who, by design, will most likely leave them. That level of selflessness is humbling and inspirational; how could I not want to be involved with something this life-affirming?"
Rick says there are many ways people can support Angels if they are not currently in a position to foster. As a single father of two sons, who is also running a business, he's not in a position to foster infants and toddlers right now. Still, he wants to use the resources he has to make a difference by serving on the Board of Directors. Others may choose to support Angels by purchasing items like diapers, car seats, and clothing. "When you hear the stories of lives being changed, it's pretty inspiring," Rick says. "Everyone decides for themselves whether or not they have the capacity to foster, but there are so many ways to support Angels, and when you think about the tangible, measurable difference you can make, I can't imagine saying no."