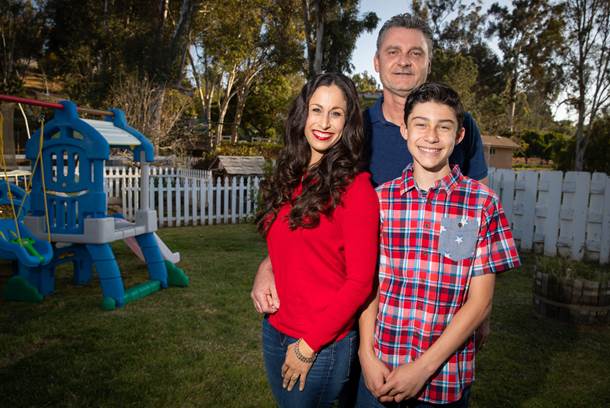 When Chris Heintschel was growing up in rural Escondido, he and his five brothers roamed the back country on foot and by bicycle. They were a tight-knit family that is still very close today. His parents live next door and several brothers live a stone's throw away. His wife Marissa grew up nearby with five siblings and a mother who instilled in them the importance of family. The couple's close bond with their own siblings was part of the reason the Heintschels committed to fostering sibling sets. "They're near and dear to my heart because I couldn't imagine going through the trauma of being separated from my parents and my siblings too. They are my best friends," says Marissa, sitting in the family's spacious backyard filled with a swing set, trampoline, and hammock.
Marissa and Chris have an eleven-year-old son, Christopher, an only child who is enjoying the experience of being a big brother as his parents foster infants and toddlers with Angels Foster Family Network. "Rose" and "Marie" are active toddlers, one year apart, who have been with the family for 18 months. They are decked out with pink outfits, bows, and sneakers. Marie, the elder, even sports a set of pink eyeglasses. "They are definitely girly girls," says Marissa, smiling as the children scamper about. Young Christopher says he was apprehensive at first, but quickly became comfortable with his role, and now is an active part of their care.
Christopher wasn't the only one who was nervous at the prospect of fostering. His father was committed to the idea, but also unsure of what to expect. "I wondered how hard it would be to love someone else's children, but it took only two days before we were all in love with the girls," Chris recalls. Marissa adds, "Fostering is hard, but loving them is easy."
Marissa says the work is mitigating the effects of trauma on infants and toddlers. "You are trying to rebuild and teach them what love is," she explains. The couple shares the story of the sisters' arrival. The girls came in with medical and emotional needs. It was important in their role to help the children meet their developmental milestones and help them develop healthy relationships. The couple recalls learning how to understand and address different signs of trauma in their training from Angels Foster Family Network, and felt confident they could handle the situation.
"I don't know what we would do without Angels," Marissa says as the couple lists the resources available to them, including round-the-clock support from their Angels clinical case manager. Families also receive extensive training prior to their first placement as well as ongoing educational opportunities.
The couple says that in addition to their girls' respective lethargy and aggression, they recognized another effect of trauma that they'd heard about in their training from Angels. The girls had no idea what hugging was, and stiffened when they were touched. As is the case with most effects of trauma, this was best treated with loving care. "We just kept loving on them and showing them how to show affection," explains Marissa. Today the girls have a clear bond between them, something that heartens Marissa and Chris. "I'll never forget the moment Marie reached out for a hug for the first time," says Marissa.
Though Marissa and Chris have provided respite care several times, Marie and Rose are their first long-term foster placements. Like the vast majority of children in foster care, they will probably reunify with their biological family and it will be time to say goodbye. "Change and the unknown are scary and it remains to be seen," says Chris. Marissa agrees. "It will be difficult, but it's worth it because whatever happens and wherever they go in life, we can feel good that we showed them: this is love, this is family."
---
Interested in fostering, too? Click here for more information!