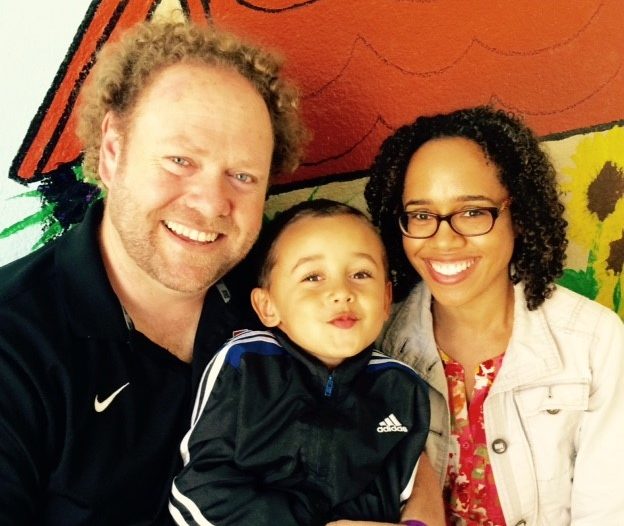 It's just before her first birthday and "Baby Elaine" is taking her first steps. She's hitting all of her developmental milestones, and even has a few extra tricks up her sleeve, like making silly faces and laughing on cue. Toddling around the playroom at Angels Foster Family Network, Elaine has a big smile and her first two bottom teeth are coming in. No one would ever guess she had a rough start to life – least of all Baby Elaine herself. And that's exactly the way foster parents Rachael and Paul Garrison like it. "She was born into a less-than-ideal situation and she isn't feeling any of that because we took that burden for her," says Paul, a special education teacher. "The hard part of her life, she's been kept from its impact."
The Garrison family doesn't see themselves as martyrs, though. They feel the entire family benefits from the addition of Elaine. "I'm not sure there are many humans on this earth cooler than her," Paul says. Rachael agrees, saying having Elaine join the family has benefitted their biological sons, Emmitt, 4, and Jack, 6. The couple describes their younger son as a natural caregiver and says he's flourished in his big brother role. "Emmitt is so thoughtful and aware, so empathetic," says Rachael, sharing how the boy automatically surveys the room for choking hazards and safety issues and makes sure everyone's volume is lower when Elaine is napping. "Jack is not as naturally as thoughtful, and we've seen him really blossom," says Rachael. Having a little sister has been a wonderful opportunity for him to add empathy to the list of his many fine characteristics, like confidence and curiosity.
When the Garrisons were deliberating about when they should start fostering infants and toddlers, they thought a lot about how it would impact their young sons. "I had this vision of my children on the therapy couch later in life saying that all of their problems began when they lost foster siblings who were reunified with their family," Rachael says. Paul smiles saying he also played out that scenario but considered the opposite might happen too. "As long as we're making up stories, we could also imagine this being a great one where our children learn about values and helping and putting others first. Why not take the leap of faith and go for it because right now we don't have the answers to how it's going to be?"
The Garrisons say that when they attended the information session at Angels Foster Family Network, the agency was very clear that there were many questions that just did not have answers. There are missing pieces of information about some children's health or biological parents. And who can ever tell what the future holds? One thing they know for sure is that Elaine has flourished in their care.
Paul credits his wife with the great strides Elaine has made. "She does everything faithfully, from medical appointments to visits with biological grandparents to paperwork, and I get to come home and be Dad, which I love doing." The couple also says Angels Foster Family Network provides "built-in support" like weekly visits and round-the-clock access to a Clinical Case Manager.
As for how the Garrisons will handle Elaine's reunification with her biological family, no one knows the answer and that's okay. The one-year-old has been with the family since days after her birth and she is the family's first placement, so they have no idea how their story will unfold. They might adopt Elaine; they may have their hearts broken. Whatever happens, they know that having Elaine as part of their family has been worth it. "We've made the conscious decision to love her because she deserves to be loved," says Paul. "We're not sure who's given more to whom here, so if I suffer, so be it."
---
Interested in fostering, too? Click here for more information!