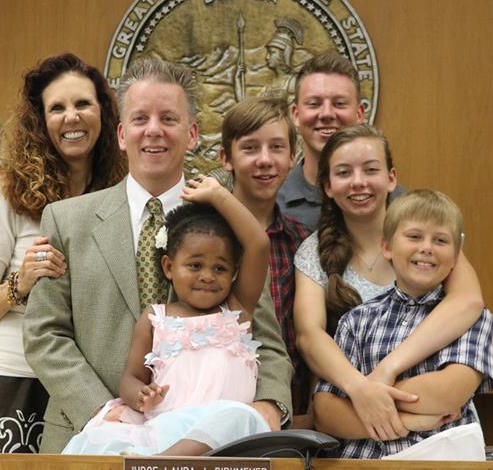 If someone was going to make a new family sitcom about fostering babies, they'd cast the Norvell crew. Their home would make the perfect set: The boys are sunken deep into a cozy couch playing games in a family room where books are piled high and walls are lined with alphabet letters. The full-time mother chats about homeschooling her five children. And the scientist father is quick with a dry quip and hugs for the kids.
But the star of this sitcom would be three-year-old Ellie, who was recently adopted by the Norvells after having been fostered by the family since she was six months old. As she sits in her high chair, Ellie offers a variety of hilarious facial expressions. She can raise one eyebrow and scrunch her mouth to the side like Lucille Ball. Ellie also drops her jaw and holds her face like Macaulay Culkin in "Home Alone." Her wide grin and high-five may be the best of all.
With undeniable star quality, Ellie asks questions about dinner, upcoming holidays, and her favorite topic of all – Mickey Mouse. She is clearly loved not only by Angels Foster Family veterans Karl and Sharon, but also by her four siblings, Chase, Caden, Kally, and Trent, who range in age from 11 to 19. Ellie lists her top three choices for dinner, and when Sharon informs her that the family is having something different that evening, the little girl drops her head and sighs dramatically. She then lifts it and giggles.
The Norvells make fostering look easy, but it's hard work, say Karl and Sharon. "It's not just about loving on this baby, it's about negotiating the needs of the children and their biological families," Sharon explains. "The children come to you with a suitcase filled with things that you didn't pack, so there are often appointments for psychological counseling and medical issues." But it's worth it, she says, as Karl nods in agreement. He adds, "I don't know that there's a huge difference between being a parent and fostering." What he means is that he puts the same level of time and attention into each child who lives with them, whether it is their biological child, foster child, or adopted child. The nuts and bolts of fostering are very different, though, he says. And after seven years and seven placements, the Norvells have seen it all. There are visits with biological parents, appointments with doctors and therapists, and the (almost always) eventual reunification with biological family members.
"The same things that are challenging are what also make fostering rewarding," Sharon offers. "And we simply could not do it without the support of Angels," she says, her eyes filling with tears as she lists the ways the agency stands by its foster families. Sharon says her clinical case managers always visit the family weekly and have always responded to her questions immediately, regardless of the time she texts or emails. She talks about the education and training offered by Angels. Wiping her eyes, she says the most important support she has received is "just the love."
The Norvells began fostering while Chase was in preschool. They felt their family wasn't quite complete, like "someone wasn't here yet." They crossed paths with a friend who fostered through Angels and signed up for an information session immediately. Sharon, a former buyer for Nordstrom, bought into the idea right away, while the more deliberative Karl took a pragmatic approach. Ultimately, they decided to go through the training and certification process. Sharon says she feels fostering is a good fit for her family for the same reasons homeschooling is. "Both allow us to focus on the individual needs of each child and determine where their strengths are and where they need extra attention. You meet them where they are and build from there," she says.
Hungry is what Ellie is during this particular episode of the Norvell family sitcom. "Is it time to eat?" asks Ellie. When she's told it is, the toddler squeals with joy and holds her arms over her head in victory. Though fostering infants and toddlers is a great deal of work, the payoff is bigger. There's love, laughter, and lots of hugs. And when it's a toddler like Ellie, it can be pretty darned entertaining too.
---
Interested in fostering, too? Click here for more information!