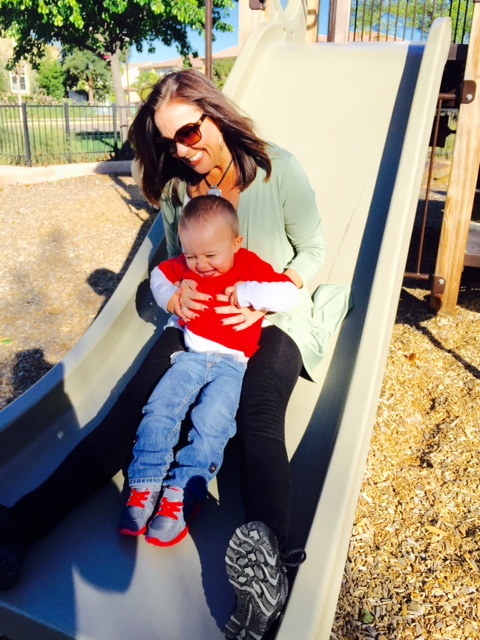 Kristi is celebrating her little boy's second birthday a little differently than she would have liked. She is preparing Baby Z's favorite breakfast – cheesy scrambled eggs and sausage – and singing the birthday song, along with her nanny and her son, RJ, who was Baby Z's best buddy. Last week, Kristi wrapped packages filled with videos, music, and a children's kindle. The two-year-old won't be with her, though. He had been a foster child in her care since he was two months old, but was recently reunified with his biological family. The foster mother says she understands that reunification was always the goal. Still, it hurts.
The 44-year-old dabs her tears with a tissue as she recalls memories shared with Baby Z. There was the family wedding where the toddler danced the night away – and kept showing off his moves long after the duo returned to their hotel room. There were afternoons at the San Diego Zoo and Wild Animal Park. And Baby Z's excitement at his visit to Disneyland was nothing short of magical, says Kristi.
The foster mom is grieving, but doesn't hesitate for a moment when asked if the joy of connecting with Baby Z outweighs the pain of saying goodbye. "I would do it all over again for the experience with that amazing little kiddo," she says. "I don't think there's anyone who shouldn't be a foster parent. It's difficult, but it's worth it." She says her heart is broken, but adds that it is also bigger and more filled with love than before Baby Z came into her life. And for that, she is grateful.
Kristi is also thankful that Angels Foster Family Network provides support groups for foster parents, covering just about every issue they might face, from handling logistics to managing relationships. That's not the only thing that makes Angels special. The nonprofit, which works closely with the San Diego County Department of Child Welfare, focuses on placing children under five years old in stable homes where they can stay for as long as they need. That may be a few weeks or it may be several years, but the goal is to keep each child in only one foster home rather than shuffling from place to place. Angels also believes children do best when they are the sole foster child in a home, or are placed with a sibling. Avoiding settings with multiple foster children helps ensure children get the focused attention they deserve.
Kristi is divorced, but has a great support system, including her ex-husband, who she still works with at his media management and buying company. She has a wonderful boyfriend, a nanny with a son Baby Z's age, and loads of family and friends who all fell in love with the boy. "I built my village and it is a filled with great people," she says. And through the fostering experience, she has met new friends, like the folks at Angels and Baby Z's biological father. "We met for visits and I really liked him." Of the dad's issues with drugs, Kristi says, "I've seen it all and I know that people can make mistakes" and still be good at heart.
Kristi says she was surprised at how many people have been touched by the foster care system. "I didn't know anyone, but once you mention it, or people see you together at the mall, or the park, or buying nursery furniture, they will tell you that they were foster children or foster parents," she says.
Dabbing her eyes again, Kristi says her dog misses Baby Z too. Laying in her lamb's wool-trimmed bed, Lexi's eyes are fixed on a stuffed Mickey Mouse doll. "That's where Z used to sit with him." She sniffles, then laughs. "It's hard but it's so worth it."
Kristi brightens and she talks about how much Baby Z will love receiving his package filled with birthday presents. "He's very smart," she beams. "He knows numbers and letters already," she says, explaining why she bought the children's Kindle. There's one gift she's not sending just yet, though. At the suggestion of a staff person at Angels, Kristi created a "Life Book" with pictures of their time together. She holds it tightly and leafs through, smiling at the familiar faces. "I'm hanging onto this to give him when we visit. I want to give him this gift in person."
---
Interested in fostering, too? Click here for more information!