In most families who foster, the idea of opening their home to an infant or toddler in need is usually introduced by one of the parents. The Lindsay family did things a little differently.
When they first married nearly twenty years ago, Jennifer and Joe Lindsay had talked about fostering, but were reluctant. Jennifer worried she might not be able to love someone else's children as deeply as she would her own. Joe says he is very structured and organized, and feared he might not have the flexibility needed to be a successful foster parent. The couple shelved the topic for a while – eleven years and three children to be exact. It was then that their eldest child, Kylie, became the driving force behind the family's decision to serve as foster parents for "Jo Jo," a toddler who has now been with the Lindsays for more than a year.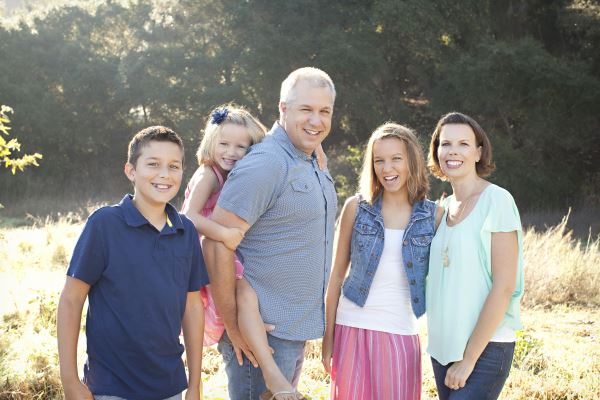 The family's journey began when 11-year-old Kylie wanted to find a way to pay tribute to Jennifer's grandmother, who had recently passed away. At first, the great-granddaughter decided to purchase chickens for a village in Africa. She soon discovered, though, that there was a dire need for a deep water well to provide clean water for a village in Uganda. Kylie was undeterred by the $10,000 price tag and told her parents she wanted to start fundraising for this project through babysitting, dog walking, yard sales, and YouTube videos. She accomplished her goal and was invited to attend the well dedication ceremony in Uganda with her mother.
"I could tell when they came back that they were changed," says Joe as he sits in the family room of their Chula Vista home. Jennifer recalls when she and her daughter visited an orphanage in Uganda and absolutely fell in love with a little girl, whom the family now sponsors. "We couldn't adopt her, but it stirred my heart and I wondered if maybe I could be a foster parent after all," she says. That's all Kylie needed to hear before she began her campaign in earnest. She used all of the skills she had developed during her year-long fundraising effort and applied them at home. Joe still wasn't so sure, though. It wasn't just that he craved order. Their lifestyle was extremely busy and he felt protective of his wife and children.
Then Joe had a realization. He had grown up in a physically and emotionally abusive family that always managed to stay one step ahead of Child Protective Services. "When they got close, we moved," Joe says. "What I went though I wouldn't wish on my worst enemy." Joe says that when he was in sixth grade his family moved to Chula Vista, where the neighbors across the street embraced him as part of their family. Knowing that there was refuge close by made all the difference in the world to young Joe. A light bulb went on for Joe and he realized, "If there's anything I can do for a child, I'm in."
Jennifer and Joe attended an information session at Angels Foster Family Network, discussed fostering with their younger two children, Cade, 13, and Hailey, 7, and decided to take the leap. "After the training and certification, we were told it would probably take a few weeks, but we got a call very quickly," Jennifer says with a smile, as Jo Jo hands her a bottle for a refill. "It has been the coolest thing."
Jo Jo waddles through the family room in her peach tutu and a hat she has fashioned from a canvas bag. She giggles infectiously and smiles broadly, especially at Hailey, who says she wasn't crazy about the fact that Jo Jo arrived on her sixth birthday. Now she says the child is the best gift she's ever received and that she's "fun, and a little friend."
The Lindsay family knows that Jo Jo will reunify with her biological mother soon and they have faith that their family story is unfolding exactly as it should. Jennifer says she and Joe celebrate the strides Jo Jo's biological mother has made. "We honor her role as the mom, extend grace and compassion, and rejoice in her victories."
---
Interested in fostering, too? Click here for more information!