They say it takes a village to raise a child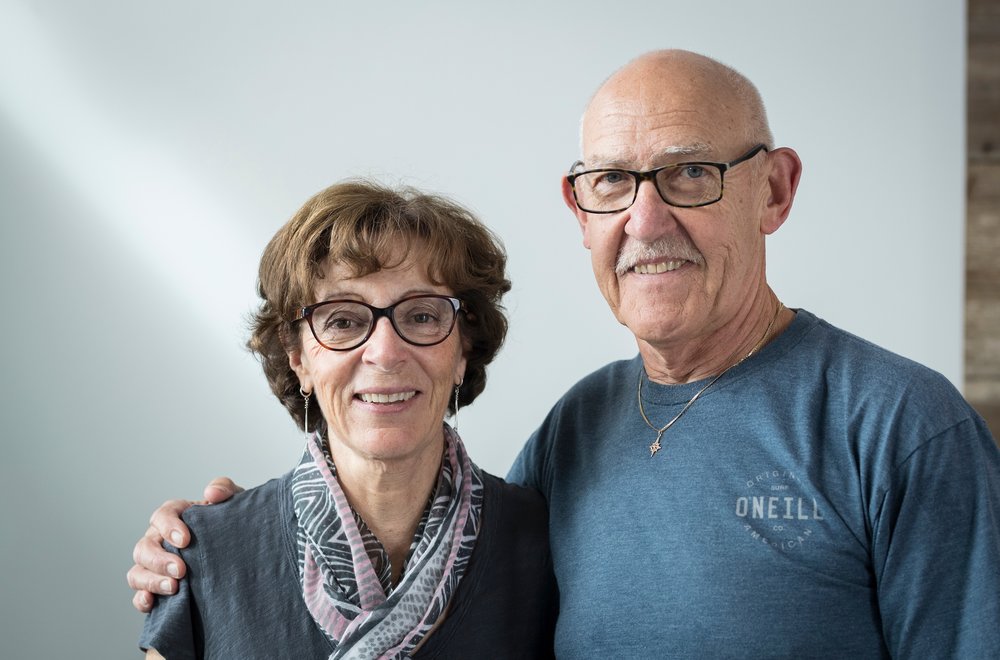 No one knows that better than Angels Foster Family Network parents, Susan and Dick Kurtik, who just returned from meeting with 15 people to discuss their current placement, five-month-old "Cole." There was a social worker, clinical case manager, developmental specialist, birth parents, and extended biological family. After that, Susan took Cole to a meet-up group for Angels families and their placements, who are all infants and toddlers. "This makes us better foster parents," explains Susan, who sits next to her husband on the ocean view deck of their home in Encinitas. In the Angels playgroup, she says, "Everyone listens to each other and gives advice in a way that only other foster parents can, because we come from the same spot, we know what it feels like. Everyone at Angels, from the director to the entire staff, has been incredibly helpful, caring, and supportive. We know we could not be on this journey without them."
The couple says that people who haven't gone through the experience of fostering may mean well, but they aren't able to fully understand the joys and challenges of falling in love with a child while simultaneously working to ensure he or she is reunified with biological family. "We're not just babysitting," says Dick. "You bond with them and they bond with us." As Dick recalls a story about their first placement, Susan cuddles Cole, who is wearing little blue overalls with a truck embroidered on the front, and makes baby faces at him. He smiles back eagerly. Dick says that he and Susan have been able to maintain relationships with some of their four past placements, and can see firsthand how their work makes a difference. He says an earlier placement was reunified with her biological family at six months old, but when they visited her a year later, she ran straight into their arms. Susan says, "We don't do this so they'll remember us or be grateful. They just need to know that someone loved them unconditionally."
The Kurtiks try to give people a break when they don't understand the pain of losing a child to reunification or adoption. Still, sometimes the comments can sting. Susan explains, "People sometimes say, 'What are you so upset about, you knew what you signed up for.'" Angels foster parents know that they are volunteering to have their hearts broken. Yet they chose to place the needs of these children before their own comfort. "Sometimes people say they could never foster because they are too soft-hearted, but the first time we had to say goodbye, we were a mess," Susan says. "I had to wear dark glasses whenever I left the house because I never knew when I'd start crying. It doesn't get any easier, I just have more sunglasses now."
Despite how hard it is to part with children they've connected with, the Kurtiks say the joy outweighs the pain. They loved Cole from the moment they picked him up at the hospital a few days after his birth. He was addicted to drugs and had issues with feeding, but quickly overcame his health challenges. Susan says that when Cole was born, his head size was in the 18th percentile, but is now in the 65th. Like a proud grandmother, she says to Cole, "You're so smart. Your head is so big because you're so smart."
Angels foster parents don't just connect with infants and toddlers. They can also act as mentors to biological parents who want this type of relationship. Dick recalls a biological father who, during a visit, asked him how he did it. "I didn't know what he meant, how I did what?" Dick says. "So I asked questions and listened and he told me about where he was coming from and how he got there, and I was able to give him some advice because I could see that he was capable of getting his life back on track." Susan adds, "For a lot of these parents, you can see yourself in their shoes because they don't have a support network." While it is not required, many Angels families say they have enjoyed establishing close, healthy relationships with biological families almost as much as the infants and toddlers they foster.
Cole has fallen asleep in Susan's arms. It's been a long morning of activity and the afternoon holds even more fun. The family might head to the library where they regularly take Cole for story time. Later this week, they'll go to baby tumbling or music class. They know the time will come when Cole must leave their home. And they know it will hurt. But Susan and Dick also know that they are transforming the life of a child who needs a stable, loving home. With the support of the village they have created, they will survive the heartache, then go on to love more children – and let these babies know that they are loved.
---
Interested in fostering, too? Click here for more information!