Robyn and Cuco Moya have a lot to thank their friends for. The couple was first set up by friends 16 years ago. And it was their current group of friends that first gave the Moyas, now the parents of 12-year-old Isaac and 8-year-old Elisabeth, the idea of fostering young children.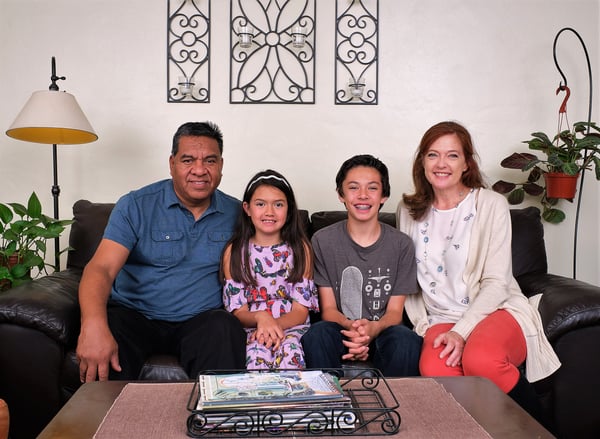 "Our neighbors and another couple we knew from church fostered," explains Robyn from their home in City Heights. "Other friends adopted three children from Ethiopia and another couple adopted a child from the Congo." The idea of offering a loving home to children had great appeal to Robyn and Cuco, but it was a major decision, one they carefully considered before taking the leap.
Cuco, who was raised in Mexico as the middle child of 15 siblings, said fostering and adopting is less common in his culture. He had to do some soul-searching. "When I was at the playground with Isaac and his friend, I asked myself how I really felt caring for another child who was not my blood," he explains. As it turned out, it felt very natural. Cuco is a pastor at a community church and says he now uses their placement, 18-month-old "J.P.," as an example that "we can love other people and we can carry other people."
J.P. is the family's first long-term placement. Their first two lasted only a few days before the children were reunified with members of their biological families. Then they got the call from Angels Foster Family Network that there was a newborn who needed a home, and that this placement might be long term. They jumped at the chance. "We were admittedly nervous about getting attached and the lack of control, but we wanted it badly enough to try," says Robyn.
"It was a lot easier than I thought," Robyn says. "Right from the start, J.P. became part of the family." Today, the toddler is a fixture at the church, blowing kisses and waving at congregants at services and events. J.P. doesn't just charm churchgoers, he is beloved by Isaac and Elisabeth, who sometimes quarrel over who gets to spend time with him. "I like fostering a lot because there's always someone to play with," says Isaac. His little sister agrees. "Sometimes I see him copying things we do, like fake sleeping," Elisabeth says with a laugh. The best part, though, is teaching J.P. how to throw a ball.
The family has grown attached to J.P. over the last year and a half, and that is the whole point of fostering with Angels – helping young children form healthy connections. "The end is imminent, but we've tried to prepare for that," Robyn says. J.P.'s biological family has been visiting regularly and taking the necessary steps to gain custody of him, something Robyn and Cuco feel comfortable with. They really like J.P.'s family and hope to keep in touch and visit regularly. As for their own children, Robyn says, "It will be hard because they adore him, but we are modeling the idea that you can love and care for someone, even when you know they might not be with you forever."