Richelle and Cody Cluff had a lot of anxiety about fostering infants and toddlers. They'd heard that when people become foster parents, they could be assigned up to six children at a time, often different ages. "As foster parents, we didn't want to be just a number and we didn't want the children to be seen that way either," explains Richelle.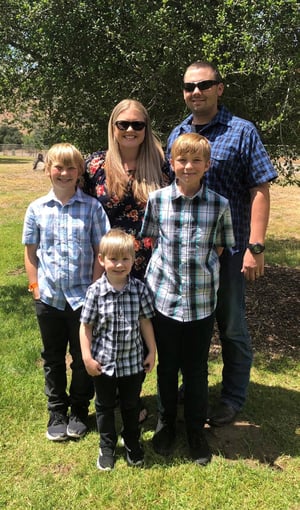 Then the Cluffs learned that Angels Foster Family Network limits the number of placements with a foster family to a single infant or toddler, or a sibling set, which seemed more sensible to them. After all, they wanted to give children the attention and care they needed and deserved.
As much as the Cluffs felt drawn to fostering, they still had concerns. "I stressed and had so many questions," says Richelle in the family's Tierrasanta home as Cody rocks "Baby K" in his arms. "I worried about if we got a baby who was needy, cried a lot, or had medical needs. The funny thing is that she was all of those things, and she's still the best thing that has happened to us."
Richelle also worried that she might be judgmental of Baby K's biological mother. "But the second I met her my heart broke for her," she says. "I cared about both the baby and her mother, and wanted to support her."
As for Cody, he wondered if he would be able to love another child as deeply as their boys: Austin, 12, Aidan, 10, and Declan, 3. And how would the boys react to having infants and toddlers stay in their home, then leave once they reunified with their biological parents? These fears turned out to be non-issues, though. Cody says he fell in love with Baby K instantly and the boys are completely on board, especially Declan. The Cluff's youngest was initially devastated that their first placement was a girl, but two days later told his parents, "I think it's okay if we love girls." Now he is excited about being a big brother to the baby girl, even calling her his little princess. "The boys know why we're doing this," says Cody.
Richelle and Cody say they were an Angels family-in-the-making for five years, the time between having their first conversation about fostering to bringing newborn Baby K home from the hospital. "I overthink everything," says Richelle with a laugh, though Angels staff say lengthy deliberations are not unusual. Sometimes the time isn't right for a family, but they revisit the idea years later when fostering is something they can manage.
Richelle says the one myth about fostering that was quickly dispelled was that foster families had to be storybook perfect. "We are crazy busy and our household is chaotic with baseball practice and homework and activities, but she just slid right into it," she explains. "We tweak the schedule and things fall into place. When you're knee-deep in it, you're just more on your toes."
---
Interested in fostering, too?